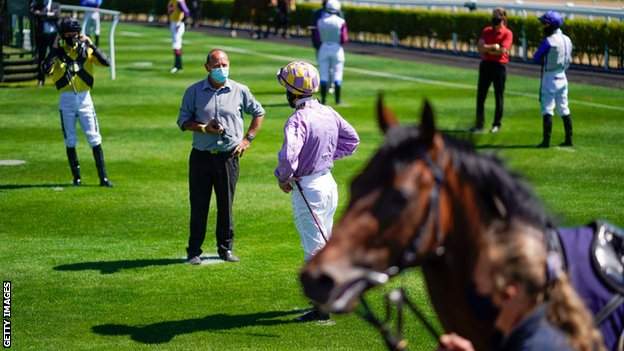 The sun shone in Newcastle on Monday but as Zodiakos passed the post a neck ahead of stablemate Al Ozzdi to win a thrilling opener shortly after 13:00 BST, there was nothing but an eerie silence.
After 76 days without horse racing in Britain, this was how it returned, with the behind-closed-doors victory for the 22-1 chance, ridden by Jimmy Sullivan and trained by Roger Fell in the Welcome Back British Racing Handicap.
Those involved with the sport were glad to be back, although there was sadness too: December Second – trained by Philip Kirby – died after suffering a fall in the 17:05 race.
The news cast a shadow over a significant day. Preparations for the all-weather meeting at Gosforth Park had been meticulous as elite sport in England made its return after the coronavirus lockdown.
The car park at the track was empty, with race goers, owners, bookmakers and most of the media all kept out behind a ring of temporary wire fencing encircling the racecourse.
Each of the 10 races were limited to 12 runners and apart from jockeys, the course was only open to a few people: trainers' representatives, stable "lads and lasses", officials and a small number of media.
Those allowed in had to complete a three-stage screening process, including medical checks before departure and on arrival.
Face masks were required by jockeys and stalls handlers with the heat adding to the feelings of unfamiliarity and discomfort.
"Riding in the mask, it is very warm and after pulling up I pulled it down a little just to get a few breaths in," admitted Sullivan after his win.
"It wasn't too bad, though. It's manageable and it's the sort of thing that, in a week, you won't even notice."
Social distancing measures were also strictly enforced at the course, with markers on the floor, two-metre warnings on the walls and a one-way system in place.
With no bars and restaurants open, it was packed lunches in paper bags for those who needed to be fed.
In the paddock, the horses still made their way around the parade ring, but jockeys had to follow a set route in and markings showed where they and the trainers representatives could stand.
Riders also had to use a different weighing room to normal, because of its size, and at the end of the race, only the winner returned to the paddock while all the other runners had to unsaddle in a dedicated area near the racecourse stables.
With no on-course bookies and high street shops still closed until 15 June, online and telephone betting were the options open for those who wanted to put their money on the day's events.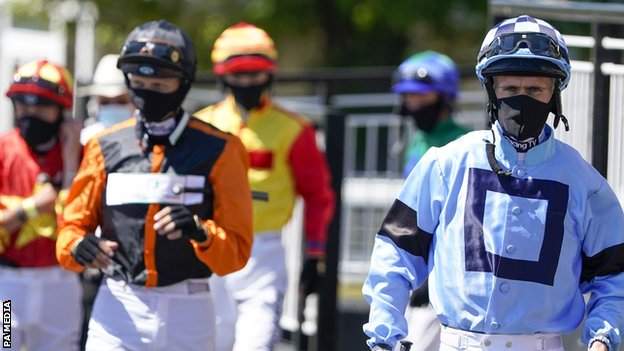 With another meeting at Gosforth Park on Tuesday, plus a card at Kempton as racing builds up to the first Classic on Saturday with the 2,000 Guineas at Newmarket, the pressure was on Newcastle to deliver.
"It is vital we got this right," said Martin Cruddace, chief executive of racecourse owner Arena Racing Company.
"We are trailblazers for the sport and there is an incredible pressure, but it is a privilege as well and we are delighted it falls on us.
"It has been an amazing effort by everyone."
The course's efforts earned praise from British Horseracing Authority's chief regulatory officer Brant Dunshea.
"We have had a few teething problems with some IT issues which were ironed out," he said. "But the racecourse has done a fantastic job in how it has laid out the course. It is a very well secured site and we are very impressed with the facilities.
"It is important we learn from each day. In the current climate, we can't be too careful."
The British Horseracing Authority expressed its sadness at the death of December Second and added in a statement: "Equine welfare has been an important consideration in our planning to return – for example there have been limits placed on field sizes as part of the sport's resumption of racing strategy.
"Racehorses have been able to continue to train and exercise during the lockdown and have been able to maintain their normal level of fitness, looked after by dedicated staff.
"Their safety has been an important consideration in our planning for return but it is impossible to remove risk altogether."