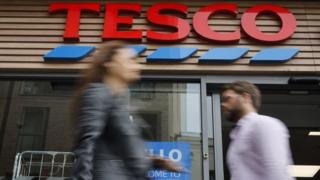 Tesco has been told not to illegally block rival supermarkets from buying their land or leasing nearby sites.
A competition investigation found the UK's biggest supermarket chain stopped access 23 times around the UK using restrictive contracts.
Tesco has agreed to take action to stop its practices in the future.
The supermarket giant blamed "administrative errors" and said it had strengthened its "controls and training."
The Competition and Markets Authority (CMA) investigation discovered that in three of the cases, when Tesco was selling land, it had put in place so-called restrictive covenants to stop rivals such as other big supermarket chains buying it, which is illegal.
In 20 of the cases, when Tesco was leasing property from landlords, it would stipulate in the contract that rivals could not also lease in the same building or complex for 20 years or longer.
Companies are allowed to make such demands from landlords, but only for up to five years.