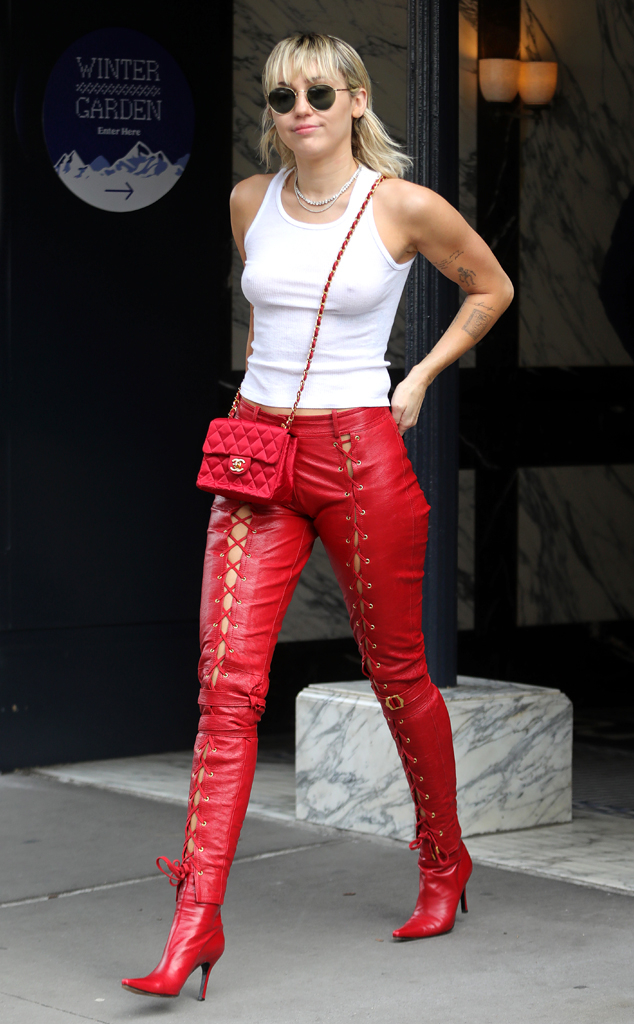 Pierre Suu/GC Images
One word: fuego!
Miley Cyrus is making the New York City streets her own personal runway. On Wednesday afternoon, the "Slide Away" songstress was dressed to kill after being photographed leaving her hotel in the Big Apple.
And despite the weather being crazy cold, the 27-year-old pop star made temperatures rise with her red hot, hot, hot outfit. For the daytime outing, Miley slipped into red leather lace-up pants by Dior that tied all the way up to her waist.
According to Vogue, the statement-making pants were originally shown during John Galliano's Fall 2003 collection. Almost two decades later, they're still making heads turn and jaws drop.
Braving the cold, Miley ditched the jacket and donned a ribbed white tank top, which complemented her audacious bottoms. Moreover, her accessories were just as bold as her daring ensemble.
Matching her eye-catching pants, she rocked bright red leather booties, a crimson Chanel crossbody and black and gold-rimmed sunglasses.
"you've been red," the pop star quipped on Instagram, alongside a photo of her chic yet edgy outfit.
However, Miley's fashion major moment was far from over.
Later in the day, she arrived to Manhattan to take on the Marc Jacobs show, which closed out New York Fashion Week.
The songstress modeled the designer's Fall 2020 collection, according to Women's Wear Daily, who attended the highly-anticipated event.
On the runway, Miley donned a simple but statement-making black bustier with matching pants. In her hands, she held an exciting piece: a zebra-printed coat.
But before the superstar shares all the details of her catwalk experience, take a look at her red carpet evolution in our gallery below! Plus, you'll get to see her fiery ensemble in all its glory.
Stephen Shugerman/Getty Images for HRTS
2006: The Trendy Tween
At the genesis of Miley Cyrus' career, she lived a double life: Miley off-stage, Hannah Montana on-stage. The teen pop sensation's concert clothes, in the typical Disney child star fashion of the early 2000s, consisted of shimmery tunics with cropped jackets.
Jeffrey Mayer/WireImage
2006: Silver Sensation
We all sported tunics with shorts back in the day and probably want to forget it, but somehow Miley as Hannah Montana reminds us why we did it. Especially since the look allows us to show off statement boots, like Hannah's sequin-lined ones.
Kevin Mazur/WireImag
2007: Pink on Pink
If you're a bubblegum pop singer, why not dress like it—by wearing pink everything? Hannah Montana showed us how it was done in a sequined tunic, hot pink leggings and '60s inspired go-go boots.
Kevin Mazur/WireImage
2007: Meet Miley Cyrus
Miley made her debut as herself on her Best of Both Worlds Tour in 2008. It was there audiences learned that while Hannah was a glitzy and glam pop star, Miley was the stylish, spunky girl next door in tennis socks and plaid skirts with pop-rock hits worth jamming to.
Philip Ramey/Corbis via Getty Images
2008: Bold in Gold
Cyrus took the BBC Switch Life Stage in an outfit that was pure gold. Like her alter ego, the red-haired starlet wore belted white jeans, but edged them up with sneakers, a gold trench and matching fedora.
Steve Granitz/WireImage
2008: 16 and Stylish
The Disney diva headlined her 16th birthday in a concert/party at Disneyland park. She did so in a stylish stride, wearing a white vest with gold-detailing and a ruffly cheerleader tutu skirt with a gold, rhinestone belt.
JEWEL SAMAD/AFP/Getty Images
2009: Ravishing Red
By 2009, Miley had crossed over from TV-star to a global phenomenon, and she dressed like it, too. A prime example is this red satin gown she wore with a sleek updo at the ultimate "Party in the USA": 'Kids inaugural: We Are The Future Concert for former President Obama's inauguration festivities.
Kevin Mazur/WireImage
2009: Gypsy Gowns
During her Wonder World Tour at Staples, the star ditched glam gowns for bohemian threads like this deep slit, deep-V dress.
Kevin Mazur/WireImage
2010: Liberating Looks
The former Disney star took a "Liberty Walk" across the MTV Europe Music Awards live show, wearing a silk leotard and heeled combat boots.
Jason Merritt / Getty Images
2011: Mature Miley
The vocalist wears a modest yet flattering blue frock with a side-swept, loose pony tail at the CNN Heroes: An All-Star Tribute at The Shrine Auditorium.
Christopher Polk/Getty Images
2012: The Legend in Leather
"Every Rose Has It's Thorns," and every edgy performer has their spikes. The then-grungy, gutsy Miley looked sharp in a spiked out oversized leather jacket cropped to showcase her midriff ong the VH1 Divas stage. The look is tied together with matching leather skinny pants and sky-high heeled ankle boots.
Michael Kovac/Getty Images for City of Hope
2012: White Wonder
The platinum-haired performer takes it down a couple of notches onstage at a City Of Hope ceremony. Rather than sporting leotards, she wears a cropped, sleeveless turtleneck top with a high-waist maxi skirt.
Theo Wargo/WireImage
2013: Can't Be Tamed Miley
At the MTV Video Music Awards, Miley came in like a wrecking ball. The world may have been shocked when Taylor Swift killed the old Taylor, but some may remember that Miley killing her Hannah Montana alter-ego was much more jarring. Some may have been caught off by Cyrus' dirty dancing with Robin Thicke, but style savants at heart might have been more focused on that teddy bear sequined leotard.
Mike Coppola/DCNYRE2014/Getty Images for DCP
2013: The Golden Age
The Bangerz star lit up the New Year's Rockin' Eve with Ryan Seacrest 2014 stage like a disco ball in a matching shiny gold separates. Topping it off with a luxurious faux fur coat, Miley's could easily be your next New Year's Eve look.
Kevin Mazur/WireImage
2014: Funky Threads
It's Miley Cyrus' party; she can wear what she wants to. The star takes the "Bangerz" Tour Stage in a canary-yellow fur coat and light pink monokini paired with matching pink cowgirl boots.
Kevin Winter/MTV1415/Getty Images
2015: Rainbow Rags
Two years post duet with Robin Thicke, Miley's looks continue to get more out of the box. On the MTV Music Awards Stage, she is wearing a square-shaped, rainbow number with matching hair and bangles.
Kevin Winter/MTV1415/Getty Images
2015: Kaleidoscope Colors
Continuing the multi-colored theme at the MTV Music Awards, Smiley Mley wears a psychedelic, skimpy jumpsuit with an eye for a breastplate and peace sign sunglasses that cover her actual eyes.
Jeff Kravitz/FilmMagic
2015: Solar Power
Here comes the sun—no here comes Miley! The singing sensation performs on her "Death Petz" tour as the sun in her "Cyrus skies."
Kevin Mazur/WireImage
2016: Country Girl
Even in her outlandish attire, the singer sticks to her gutsy roots by pairing her island-esque leotard with cowboy boots.
John Lamparski/WireImage
2017: Blue Jeans
Miley put on her old blue jeans after an era of animated attire. And her T-shirt seems like a practical head-nod to her Smiley-Miley nickname.
John Shearer/BBMA2017/Getty Images
2017: Laid-Back Looks
With her new singer-songwriter persona, the starlet trades in unorthodox threads for bohemian off-the-shoulder blouses paired with floppy hats and all-American white shorts.
Brad Barket/Getty Images
2018: Silver Cowgirl
Head-to-toe sparkles light up the singers' stage ensemble.
Chelsea Lauren/REX/Shutterstock
2019: Refined Glamour
At the 2019 Grammys, Miley ushers in a new era of her style evolution in a sophisticated Mugler blazer and tousled beach waves.
Harry Durrant/Getty Images
2019: Wild Child
Miley takes over the 2019 Glastonbury Festival in daring leather pants and plenty of chunky jewelry.
LALO / BACKGRID
2020: Back to the Basics
You can take the girl out of rock 'n roll, but you can't take the rock 'n roll out of the girl. With a new man and a new, mullet-inspired 'do, proves she hasn't lost her edge.
Pierre Suu/GC Images
2020: Red Hot, Hot, Hot
A lady in red! The "Slide Away" singer makes the New York City streets her runway with her fiery ensemble. She wears vintage Dior leather lace-up pants, a ribbed white tank and chic Chanel crossbody.
For all fashion week updates, E! has you covered. Check out our coverage, here.
Watch E! News weekday mornings at 7 a.m.!