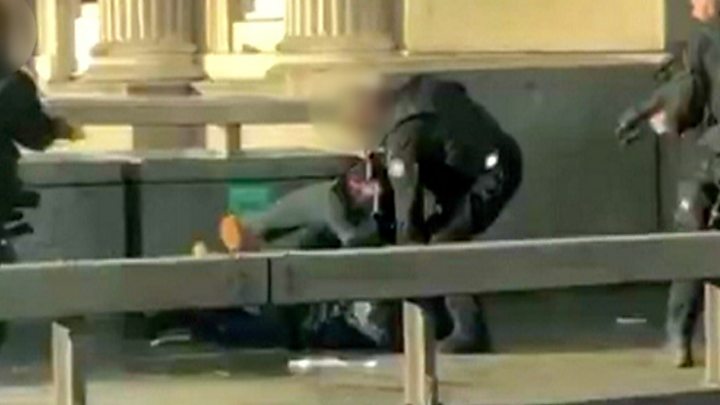 A man has been shot dead by police and a number of people have been stabbed in an attack on London Bridge which is being treated as "terror-related".
What happened?
The Met Police said officers were called to a stabbing at a premises near the bridge in central London just before 14:00 GMT.
A number of people have been injured, some seriously.
Videos on social media show members of the public wrestling a man to the floor who then disperse before the man is shot by an armed police officer.
Another man in a suit and jacket can be seen running from him, having apparently retrieved a large knife.
A separate video has also emerged showing police officers aiming guns at a white lorry that jack-knifed across the bridge.
The footage shows several officers surrounding the vehicle before moving to the rear to check its container.
Whitehall officials have told BBC Security Correspondent Frank Gardner the police action was not intelligence-led and was spontaneous and reactive.
What have police said?
Met Police assistant commissioner Neil Basu said the suspect was shot by armed officers and died at the scene.
He confirmed the force was treating it as a terrorist incident.
The man had a hoax explosive device strapped to his body, said Mr Basu who is the head of UK counter-terrorism policing.
London Ambulance Service has declared a "major incident" and have a number of crews at the scene.
"A number of other people received injuries. As soon as we can provide updates on their condition we will," Mr Basu said.
There is no further danger to the public, he added.
A wide police cordon remains in the area as police carry out searches "to ensure there is no further threat".
Where did it happen?
The stabbing happened on the north side of London Bridge, opposite Adelaide House.
British Transport Police said London Bridge station was currently closed and no trains would be stopping there.
A number of buildings near the bridge, including King's College London and the News UK building opposite the Shard, were put into lockdown as part of the evacuation of the area.
A wide police cordon remains in the area as police carry out searches "to ensure there is no further threat".
Residents who live nearby have been told to find elsewhere to stay and the cordon may remain in place over the weekend, police said.
What did witnesses see?
BBC reporter John McManus said he saw a group of men involved in a fight on the bridge. Police then arrived and shots were fired, he said.
Witnesses described armed police arriving at the scene and shooting a man. Others said they saw a man on the ground, holding a knife.
Amanda Hunter said she was on a bus on the bridge when she looked out the window and saw "three police officers going over to a man".
"Then one of the police officers shot him," she said. "It appeared there was something in his hand."
Bus driver Mustafa Salih was travelling from Borough High Street towards London Bridge where he saw emergency vehicles and the police cordon.
"A police officer came up to me and said turn off your engine, get off and run," he told BBC London.
"I looked up and I could see a crowd of people coming towards me.
"One woman was crying. I ran back down to Borough High Street. It was all very scary as we did not know what was happening."
Luke Redman said he heard "12 or 15 (gunshots) in about 10 seconds" as he left the Monument pub and ran down an alleyway to escape.