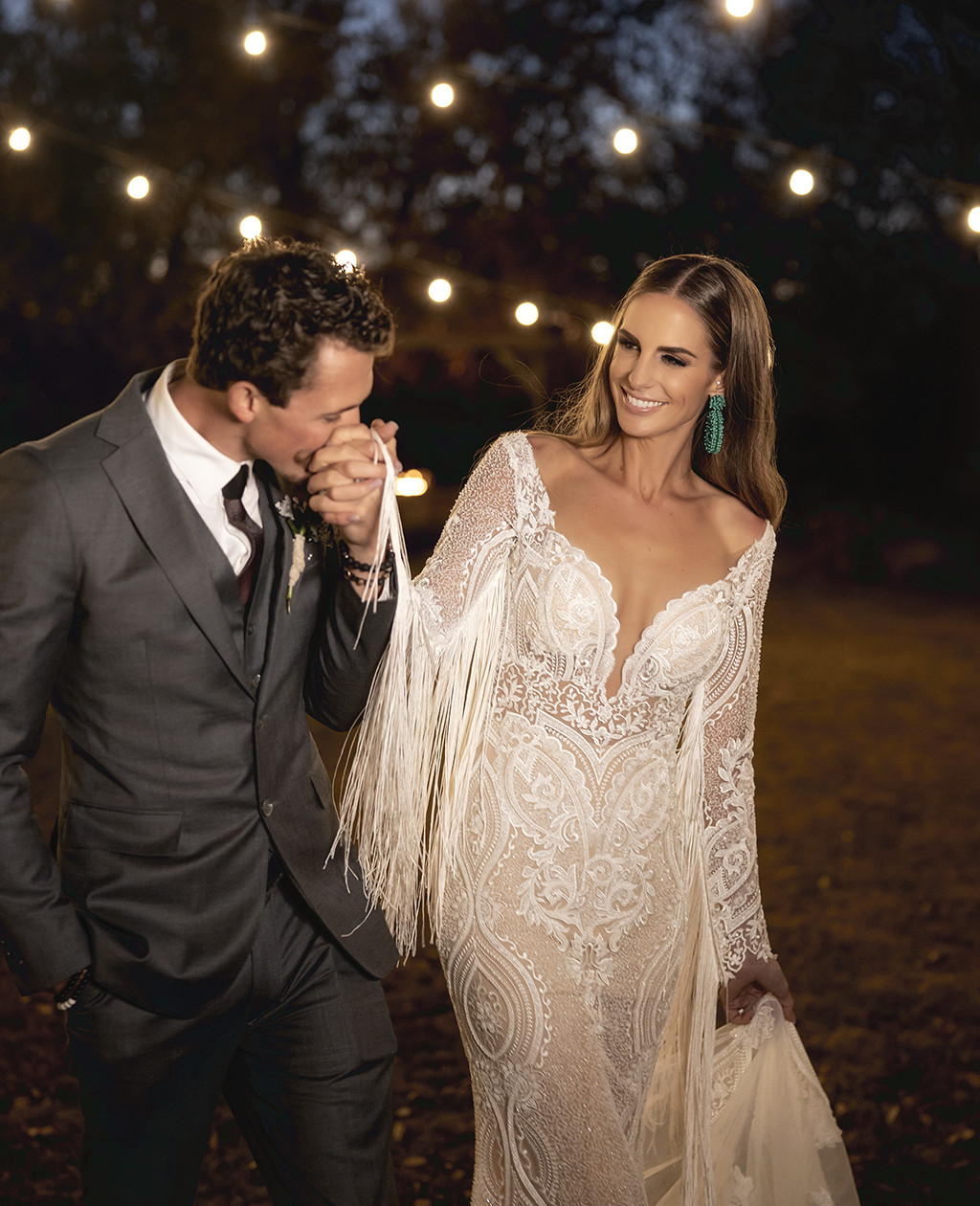 @forevermorefilms
The tribe has spoken! It's time to say "I Do."
Over the weekend, former contestants Joe Anglim and Sierra Dawn Anglim exchanged vows in a romantic wedding ceremony at The Hideaway on Angel in Utah.
In pictures captured by Forevermore Films, fans were able to see the bride's stunning wedding dress from Naama & Anat Haute Couture. As for Joe, he looked pretty darn handsome too in DC Tuxedos and ModernTie accessories.
"No words to describe how full my heart is after this weekend. I married the love of my life, my soulmate, twin flame and very best friend. We have been blessed with incredible families, friends, and complete strangers who have affirmed us in more ways than we could ever imagine," Joe wrote on Instagram with a photo from the special day. "I know I'm not alone when i say just how stunning, beautiful and special @sierra_dawn_ truly is."
He added, "We are both so thankful for all the support and kindness in our celebration of our marriage and union. Thank you all from the bottoms of our hearts."
Not to be outdone, Sierra also took to Instagram and reiterated just how special the day was. And yes, she's more than happy to have found her "prince charming."
"Thank you to our family and friends who made this night more than we ever could've imagined. Your love and support was poured upon us and we've never felt more lucky for each and everyone of you," she shared. "Huge shoutout to all our venders for making our vision a reality. Here's a little sneak peek from our photographer/videographer. Can't wait to share more with you all."
Famous friends including Vanderpump Rules star Ariana Madix were quick to congratulate the couple. And yes, more than a few Survivor contestants couldn't help but share their excitement.
"Love you both! Your love is one for the ages. Sierra and Joe to the beginning of the universe and back!" Aubry Bracco wrote in the comments section. "Thank you for sharing your love story with us."
Survivor alumni including Ron Clark, Davie Rickenbacker and Rodney Lavoie Jr. also shared their well wishes.
The pair first met on the show's "Worlds Apart" 30th season back in 2014. While Sierra voted off Joe during the season, they revealed on social media that they were dating close to three years later.
If you're curious to see what other Survivor couples are up to now, we're here to help! Take a look at our status check-in below!
Instagram
Jenna Bowman and Sebastian Noel
These Survivor: Ghost Island contestants are so intertwined they started a vlog and a couples Instagram account: Tarzan and Jen.
CBS
Parvati Shallow and John Fincher
Parvati Shallow, a participant on multiple iterations of Survivor, started dating John Fincher of Survivor: Samoa in 2014. They married in 2017 and welcomed a daughter in 2018.
CBS
Whitney Duncan and Keith Tollefson
This pair from 2011's Survivor: South Pacific had almost instant sparks. Their relationship took them on The Amazing Race together, and they wed in 2014.
Andrew H. Walker/Getty Images
Jeff Probst and Julie Berry
After production on Survivor: Vanuatu wrapped, Probst, the longtime host of the CBS series, reached out to Berry. The two started dating, but kept the relationship a secret until after Berry's season aired. They were together for a few years, but eventually split.
Robert Voets/CBS Photo Archive via Getty Images
Rob Mariano and Amber Brkich
Oh, Boston Rob and Amber. These two took showmance to the next level. They met in 2003 while on Survivor: All-Stars, got engaged in 2004, and had a TV wedding in 2005. They competed on The Amazing Race in season seven and returned for The Amazing Race: All-Stars in 2007. They have three kids.
CBS
Mary Sartain and Ryan Opray
The couple were introduced by Johnny Fairplay and were engaged, but the relationship didn't last.
Steve Mack/Getty Images
Spencer Duhm and Todd Herzog
Todd Herzog, the winner of Survivor: China, met Survivor: Tocantins contestant Spencer Duhm in 2009. The couple eventually split, and Herzog later appeared on Dr. Phil for an intervention with his alcohol addiction.
Amy Sussman/Getty Images
Stephen Fishbach and Courtney Yates
Courtney Yates of Survivor: China and Stephen Fishbach of Survivor: Tocantins never competed on the series together, but met in 2009 and struck up a romantic relationship, but it didn't last. Fishbach got married in 2018.
Sonja Flemming/CBS via Getty Images
Ethan Zohn and Jenna Morasca
These two Survivor winners met during the finale of Survivor: The Amazon. They started dating in 2003 and were together for 10 years, even appearing on The Amazing Race.
"It is with much consideration and a heavy heart that we are announcing that after 10 years of a loving relationship, the decision was made to move on without each other," a rep for the couple told E! News in 2013. "We will carry with us the memories of a relationship grounded in love, laughter, support and friendship."
"We have experienced some of life's greatest joys and toughest challenges together, and our decision to be apart can never diminish that. We want to thank everyone for their support and we ask that our privacy be respected as we move forward." Ethan Zohn is now married.
Instagram
Erik Huffman and Jaime Dugan-Huffman
The Survivor: China contestants met on the show in 2007 during the competition. They married two years later.
CBS
Alex Bell and Kim Powers
Alex Bell, from Survivor: The Amazon, and Kim Powers, from Survivor: Africa, met through the show and got married in 2006.
CBS
David Murphy and Carolina Eastwood
Carolina Eastwood, a Survivor: Tocantins contestant, and David Murphy, a Survivor: Redemption Island contestant, got engaged on TV during the Redemption Island reunion. However, the marriage didn't happen and the split.
CBS
Ozzy Lusth and Amanda Kimmel
Lusth and Kimmel met on Survivor season 16, Survivor: Micronesia, where a showmance quickly developed. They continued dating after cameras stopped rolling, but eventually split.
CBS
Alec Merlino & Kara Kay
After competing on Season 37 or Survivor: David vs. Goliah, the two contestants formed a romantic relationship that continues today in San Diego, Calif. "We shared so much chemistry and friendship on the island," Kara explained to E! News. "And then we got home and we both knew."
Instagram
Joe Anglim & Sierra Dawn Thomas
These two Survivor lovebirds met in 2014 during Worlds Apart. Although they didn't start dating immediately after the show, they became a couple a few years later and announced their engagement on April 9, 2019. Just before Thanksgiving 2019, the couple said "I Do" in a magical Utah wedding ceremony.
Survivor airs Wednesday nights at 8 p.m. on CBS.